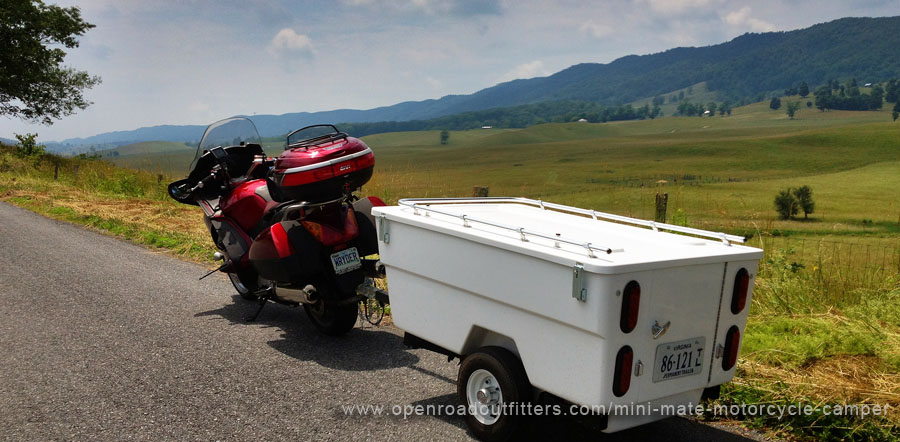 Beyond the Washington beltway, out in deep, blue-green folds of the Virginias there remain a precious few places that offer shelter against an unceasing bombardment of Facebook status updates, tweetstorms, robocalls and e-mail chain letters. When I want to get away from it all, I hook up the camper to the bike and that's where I head. No signal, no service, no problem.
My buddy Rich bought a farm house in one of those isolated wrinkles running along the jagged border between the Old Dominion and the Mountain State. It's become a habit for a few of us to convene at his place for a motorcycle camp night on the weekend of the summer solstice, an event that I look forward to the day after the last one ends. That's something I can't say about any other annual event.
Friday morning, I threw open the garage door and got the hell out of Dodge on my faithful Honda ST-1300 with Mini Mate camper in tow. Scattered clouds loomed over the western horizon running out Virginia 55, but a quick radar scan on my phone showed little actual precip. I connected with US 11 in Strasburg, then loped over US Route 33 between Harrisonburg, Virginia and Brandywine, West Virginia. A sprinkle at the top of Shenandoah mountain wasn't enough to even dampen the pavement and I arrived in Franklin, West Virginia dry and sassy.
In motorcycling, we live out the Taoist sentiment that the journey is the reward. Riders who enjoy motorcycle camping discover something else. The destination can be just as satisfying. Another twenty minutes south on US 220 would bring me to my desired destination, Blue Grass, Virginia.
I feel connected to the Blue Grass valley in some special way. Is it an echo of some past life that stirs excitement in the subconscious mind? Did I formerly roam these hills as a huntsman or husband a grove of sugar maples? I've thought about that. More likely though, that twinge of joy I feel on entering the valley stems from the natural beauty and solace I know are waiting for me just ahead.
A single road winds along the base of Monterey mountain along the eastern edge of the valley, rising and dipping with the terrain. Sunlight bathes verdant pastures that roll to the southern horizon, dotted with the occasional farmhouse. Overhead, a pair of bald eagles circle aimlessly in an updraft on the valley's edge. In a far field, tiny specks represent a flock of sheep grazing contentedly. This is one part of the world where everything feels exquisitely in balance. That's a rare and precious thing.
Rich's place is off the road a half mile into the middle of the valley. I pointed the bike up a steep gravel road and into his lane. It towed the camper easily and after landing in a spot with a perfect view of notable area landmarks Snowy Mountain and Devils Backbone, I opened the Mini Mate and had camp made in a couple of minutes.
After a fun ride, the balance of the day held equal promise; an evening spent with good friends in a special place. This motorcycle camping weekend was off to a great start.